Dog Agility Training

About Our Dog Agility Training

in Milton Keynes only

(Call 01525 242142)


If your dog is over a year young then dog Agility Training might just be what you need, A lot of dogs have a lot of unused energy and need to transfer this energy in to something positive, By doing the dog agility course this helps your dog in many ways like helping them to focus on you, also helping your dog to burn some of that built up energy and also helps you to take control of your dog in a positive way and makes you more of the pack leader.

Our dog agility course is based in Drayton Parslow Milton Keynes and lasts around an 45mins which is plenty of time for any dog, and our prices are only £8.00 for the 45mins.

When a dog does agility they use every part of their body from their brain to their feet and use every muscle they can, this helps them focus on you and also creates a better bond between dog and owner.

Our course is designed to help you take control and with myself by your side helping you every step of the way it will not take long for you and your dog to create that special bond between you.

If your dog has a lot of unused energy transfering that energy in a positive way is better than your dog chewing the furniture this helps stimulate their brains and also its fun.

Dogs like to learn and try new things same as humans so by doing the dog agility course this will help them use their brains and also helps to calm them down.So if you have an excitable dog then give me a ring and book today.


| | |
| --- | --- |
| | Barney jumping over hurdles |
| | Leah going over the A frame |
| | Sam doing the weave |
| | Oscar &bow thinking about it |
| | Alfie playing hide and seek |
| | Wesley 1st time through ring |
| | |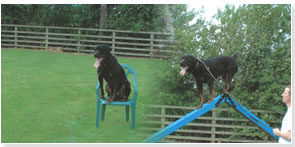 Samson doing his pose for the camera